Kris Munn has been working to make Red Hook and Tivoli a better place for over a decade and was elected to the Dutchess County Legislature on November 7, 2017.
As legislator, Kris has restored oversight to what had become a rubber stamp legislature, asking fair but direct questions on everything from cost overruns on public projects to the massive overtime bills at the county jail.
As a result of his initiative and that of County Comptroller Robin Lois, county government has been forced to adopt new policies and procedures in the hope of ending the poor practices that cost taxpayers millions of dollars.
Preserving Our Farms and Open Space
Most of us love our farms and open space and how Red Hook and Tivoli have worked to preserve them over the last 10 years. Kris was among the leaders who helped these policies get passed, a key supporter and activist in the early years when farms were still at risk for McMansion style development.
Since 2006, Kris has been a strong and vocal advocate for the ideas and community leaders that supported what would eventually become the Centers and Greenspaces plan.
The "centers" part of the Centers and Greenspaces Plan that Red Hook passed prioritizes the development of walkable villages to support local businesses by giving them more customers and more sidewalk traffic. The Greenspaces part of the plan helped farmers do more things with their land while protecting farms from outside megadevelopers who were circling in the late 2000s.
The Observer
Kristofer Munn is perhaps best known for his community newspaper, The Observer, which served Red Hook in print and online from 2012 through 2014.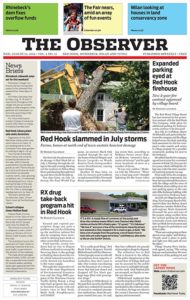 As a volunteer publisher, editor and reporter, he – along with a core group of paid reporters and other volunteers – delivered news into every mailbox every two weeks for free to readers. Through his work at the paper, Kris served the communities of Red Hook and Tivoli, delivering details about what was going on in local government and our schools. The Observer was a trusted source for local news.
"Our goal at the newspaper was to try to bring our communities together by giving us a common experience – a common basis for conversation. By listening to residents and sharing their news, I'm proud we accomplished that."
Taxes and Tax Reform
Kris was one of the early members of the Tax Reform Effort of Northern Dutchess (TREND), part of a state-wide coalition of groups that have pushed to cap local property taxes with an income-based "circuit breaker" to help our seniors and those on a fixed income, and people who run into tough times, from being impoverished by local property taxes. While our current, so-called "2% tax cap" is a start, a real cap would reduce our taxes, not just make them rise a little slower. As county legislator, Kris will use his position to bring even more attention to this important issue: property tax relief.
Local Community
Continuing his work supporting smart local growth, Kris was a bipartisan appointment to the Red Hook Planning Board in 2008. The planning board is responsible for guiding development in town and making sure new projects adhere to Red Hook's planning and zoning codes. He volunteered for five years on the board before leaving to focus on The Observer.
When The Observer suspended publication in 2014, Kris returned to local government as a volunteer member of the Red Hook Zoning Board of Appeals in 2015 where he served until taking office in the county legislature in January 2018.
Kris currently volunteers as a youth soccer coach and serves in a local Cub Scout pack. In the past, he has also served on the Red Hook Pool Board and worked with the Red Hook Bicentennial Committee among other activities.
Family
Kristofer Munn lives in Red Hook with his five children, all of whom attend Red Hook public schools.
"As a parent of five, a small business owner and a community volunteer, my focus has been on making our town a better place for all of us and all our children. I look forward to serving all the people of Red Hook and Tivoli as a member of the County Legislature."
Questions?
If you have any questions for Kris, don't hesitate to ask!